The Origin of the Paddye Mann High-Collared Shirt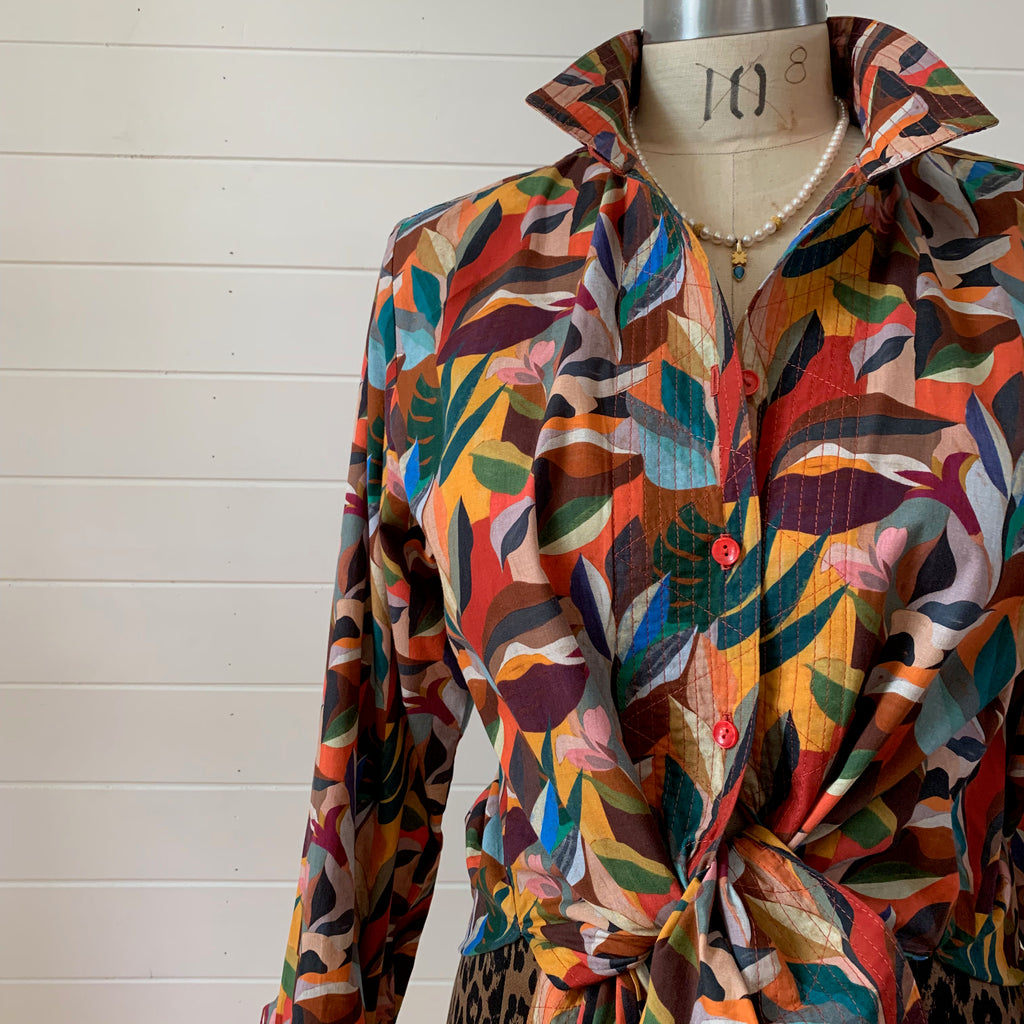 As a young designer in 1978, I realized that business clothing for women was almost a cliché: skirt, light blouse or camisole and a jacket. If the office environment got hot, or a meeting turned into a marathon, while the men could remove their jackets and loosen their ties, the executive woman had to continue wearing her jacket or risk being too revealing. I set about to change that norm, and I designed a shirt that could be worn alone, under a jacket, casual or formal, and would last for many many years. Since that original design was completed I have made thousands of these beautiful shirts, many of which are still in use decades later.
I wanted my shirts to be stylish in an enduring way, so I first incorporated crisp top stitching on the collar, cuffs and front bands, so the shirt would keep looking fresh all day and stay that way if it was worn after work in a social setting. It was versatile enough that it could be worn with a skirt or jeans, tucked in or left out, coupled with a big belt, or even tied at the waist. I created my shirts in two designs. One was form fitting to accentuate a well sculpted image, or loosely tailored for comfort and relaxation. My shirts were designed to quickly transition from a work personality to a casual outfit for an evening out.
Knowing that one of the requirements for long lasting quality was to find a cotton that would be strong and yet look smooth and lustrous, I searched for and found the perfect cotton in the Biella region of Italy. Biella is renowned for its beautiful soft, strong cotton, and I specified a two ply 100% cotton strand. These beautiful fine threads of Biella are so smooth and lustrous they are often mistaken for silk, but they are significantly more strong and durable.
To complete my design, I directed our tailors to ensure all top stitching threads are hand tied, not simply stitched over and over to make an unsightly finish. Our threads are hand tied and give a fine clean look to the edges. But there was one item that has always been a concern for me, and that is buttonholes. It is not enough for a garment to be well made from excellent cloth, if the garment begins to come apart at the buttonholes. All too often a beautiful garment is discarded because its threads began to unravel and that always seems to happen at the buttonholes. The solution was simple but elegant. I directed that all our shirts would be designed with hand sewn buttonholes, each carefully made to be strong, and never unravel even after decades of use and washing.
And now, many years since I created that first design, it remains virtually unchanged. Our shirts are still our single most popular item. We have made Paddye Mann Design shirts for thousand of people and shipped them all over the world. They are still in use, and if treated well will continue to provide decades of stylish comfortable wear. This is a beautiful garment, a versatile and inimitable style you will purchase once and wear for a lifetime.